RESOURCES ON CAMPUS
The CED Undergraduate Advising Office is open for drop-in appointments. Here is this week's schedule:
| | | | | | |
| --- | --- | --- | --- | --- | --- |
| | | | | | |
| | | | | | Heather (Study Abroad 11-12) |
| | | | | | Isela (Study Abroad 12-4) |
Don't forget to come to this week's info sessions about the Spring 2020 GUH Studio Course,
East Bay Revolution: Urban Spaces of Protest and Counterculture Practice.
This is a great project-based interdisciplinary course for students interested in visual culture, mapping, and East Bay radical history. Instructors Greg Castillo (Architecture) and Scott Saul (English) will discuss what the course will cover, East Bay sites of interests and their unique histories and more.
APPLICATION IS REQUIRED TO ENROLL AND DUE BY OCT 4. DOWNLOAD
HERE
.
All students from all departments are welcome. This course fulfills the studio requirement for the Undergraduate Certificate in Global Urban Humanities—we're still taking applications for the certificate program and encourage students interested in the East Bay course to apply!
EOP Carroll Grant application is now open!!! Applications will close on Friday, October 4, 2019 or when funds are exhausted.
The EOP Carroll Grant will allocate up to $300 to help students off set the cost of graduate school expenses, such as graduate applications, prep test courses, and graduate school entrance exam registration fees.
CNR students should apply to the CNR EOP Carroll Grant and can qualify to receive up to $500. CNR students must complete a CNR survey and provide official receipts to verify graduate school expenses/purchase by May 1, 2020.
For more information please view the attached flier and follow this
link
.
We are pleased to publish another issue acknowledging exceptional achievement and promoting an agenda of inclusion, equity, and diversity. We are also excited to announce BD is getting its own website (BD-zine.com) where you, your friends and families can conveniently subscribe to the ezine and get on our distribution list. (The ezine will still be available on
http://casa-ucberkeley.com/FetchPDF.aspx?nlid=86
.)
Welcome to the 2019-2020 Year!
The Sustainability Office Team invites you to engage!
Whether you've been here for a number of years or just walked onto campus, it's never too late or early to get involved in sustainability at Cal. Talk a sustainability tour, join an environmental student group, apply for a grant, learn about Berkeley's sustainability performance, and more. Let's work together to grow our green campus.
More >>
The Career Center will host its annual First Generation Career Conference on February 8, 2020.
Are you the first in your family to earn a 4-year degree?
Through this event, you will learn practical skills about the job and internship search process, networking, and most importantly, how to craft your narrative and celebrate your strengths as first-generation students.
We want to hear from first gen students about their experiences at Cal and what they hope to see at this year's event.
We are hosting 3 sessions to get your input on October 8, 9, and 10 from 12:00-1:00 pm. You only need to attend one session and lunch will be provided.
If you cannot make these sessions, please fill out the survey to share your ideas:
Are you interested in applying for the Clinton Global Initiative University 2019-2020 program, but worried you don't have a project idea? This interactive workshop is about aligning your interests and skill set with a local (or global) problem that needs to be solved. You will go through a few brainstorming exercises to figure out what project ideas are a good fit for you and your application. Then we will turn that idea into what the application calls your "Commitment to Action". Bring a notebook, colorful markers, and post-its.
About your instructor: Lauren Valdez is a CGI U mentor, where she supports students in implementing their Commitment to Action. Lauren taught in the Global Poverty & Practice minor at UC Berkeley for 3 years and holds dual Masters in City Planning & Public Health. She has over a decade of nonprofit experience, developing and implementing programs in 6 U.S. cities and 14 countries. Lauren is passionate about supporting people of color and first generation college students in accessing opportunities like CGI U. Contact laurenveronica@berkeley.edu with any questions.
Sep 25th, 12-1pm PT, register here
Oct 10th, 1:30-2:30pm PT, register here
Office Hours Sep 23 - Nov 3
Students can schedule 30 minute office hours appointments for feedback on their applications here.
Call for Applications
Prize Recognizes Undergraduates Working to Improve the Future of Children and Youth
Each year the KIDS FIRST: David L. Kirp Prize awards $2,500 to one or more UC Berkeley undergraduates who have developed innovative strategies to increase opportunities for children and youth or who has demonstrated a commitment to improving the future of children and youth.

Eligibility
The prize is open to UC Berkeley undergraduate students from all majors who are registered during fall semester 2019.

Application and Deadline

To apply, students must submit an application form, 1000 word essay, resume or CV, and two letters of support. The application deadline is October 28, 2019. To download an application form and learn more visit the ISSI website.
A faculty member at the Goldman School of Public Policy, UC Berkeley, since 1971, David L. Kirp is currently a professor of the Graduate School, a member of the National Academy of Education, a contributing writer to the New York Times and a senior scholar at the Learning Policy Institute. In his seventeen books and hundreds of articles, he has mainly focused on education and youth policy. His 2011 book, Kids First: Five Big Ideas for Transforming the Lives of Children, makes a powerful argument for building systems of support that reach from cradle to college and career. His most recent book is The College Dropout Scandal.
The prize reflects Professor Kirp's long professional track record and deep commitment to creating a better future for children and youth. "I hope the prize will incite interest and provoke creativity among talented UC Berkeley undergraduates. It is hard to imagine a more important topic than shepherding the next generation of kids to a successful future."
GRAD SCHOOL
Are you a student with a chemical sciences background who wants to learn more about your post-grad options?
Have you ever wondered what the difference was between a traditional and a professional Master of Science degree?
Does a career in industry interest you more than a PhD?
If so, join the Executive Director of the Product Development Program, Dr. Keith Alexander, on Wednesday, October 9th from 5-6 pm in 402 Latimer Hall for our Traditional vs. Professional Master of Science Degree Workshop. Pizza will be provided and Dr. Alexander will answer all of the questions above to help you learn more about all of the different and not-so-obvious career paths that are available to you.
MASTER OF CITY PLANNING (M.C.P.)
ADMISSION EVENTS - Let's meet each other!
The Department of City and Regional Planning (DCRP) in the College of Environmental Design (CED) at UC Berkeley actively seeks to reach out to various communities to diversify our applicant pool and the field of planning. Every year, we offer prospective applicants in-person and online opportunities to get to know us. We invite you to participate in our upcoming admission events to learn more about us and the various programs we offer. Registration for all of our events is required and free. ALL ARE WELCOME!
ON-CAMPUS
CED OPEN HOUSE
Monday, October 14, 9AM-12PM (PST)
Wurster Hall
Come learn more about our college/department, attend courses, meet with our distinguished faculty and connect with current students. To register for the open house, please click on the hyperlink below.
Reserve your spot by Wednesday, October 9!
ONLINE
For those who cannot travel to our campus, we invite you to participate in our free online events via Zoom (Video Conferencing Service).You may test your connection here. To register for the online events, please click on the dates (hyperlinks) below.
CONFERENCE CALLS
M.C.P. Program Co-Chairs: Karen Frick and Carolina Reid
Tuesdays and Thursdays, 2:30-3:30PM PST
•
Tuesday, October 8
•
Thursday, November 7
•
Tuesday, December 3
These calls will allow you to gain insight into the faculty perspective on the MCP program and application process.
M.C.P. PROGRAM & ADMISSIONS WEBINARS
DCRP Graduate Advisors: Clay Hall & Kathleen Pera
Wednesdays, 2:30-3:30PM PST
•
October 2
•
November 6
These webinars will provide an overview of our graduate program, admissions cycle, funding, admission statistics, career services, counseling services and employment. The final 15 minutes will allow you to ask questions regarding topics presented in the overview.
M.C.P. APPLICATION QUESTIONS WEBINAR
DCRP Graduate Advisors: Clay Hall & Kathleen Pera
Wednesday, 2:30-3:30PM PST
•
December 11
This will be your FINAL opportunity to gain answers to your LAST MINUTE APPLICATION-ONLY QUESTIONS before the MCP program online application deadline: Monday, December 16!
STUDY ABROAD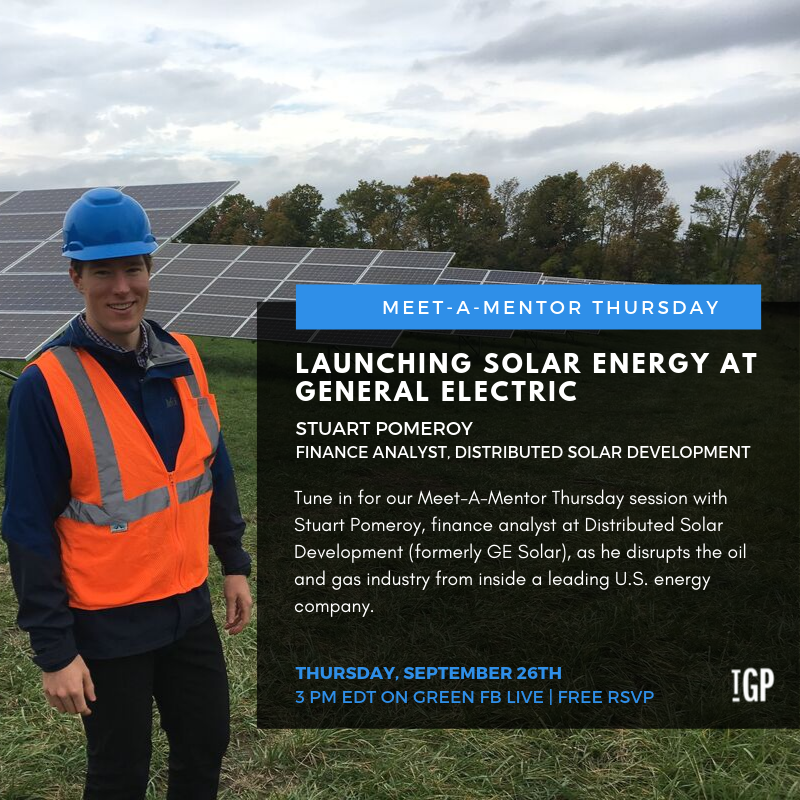 From Iceland's largest geothermal facility with The GREEN Program to developing solar PV and storage solutions with Distributed Solar Development, Stuart has experienced various layers of energy industries around the world. We are excited to learn more about his journey within the energy industry in the U.S. with GE and the exciting solar projects he is working on today.
Every month the TGP Team sits down with one of our GREEN Industry Mentors to learn from these young leaders changing the game of sustainability around the world. Learn more about the 2019 cohort of GREEN Industry Mentors here!
Bamboo Architecture, Environmental Design, and Agroecological Farming Opportunity in Ecuador!
This winter,
Regeneration Field Institute (RFI)
is offering opportunities for university students to collaborate with our coalition of builders and community members striving to rebuild communities with sustainable green technology through harnessing the power and strength of bamboo. Students will receive lessons and instruction from world-renowned Ecuadorian architects, engineers, professors, carpenters, and bamboo farmers who have been actively rebuilding since the earthquake, as well as have the opportunity to collaborate with local university engineering and architecture students.
Regeneration Field Institute(RFI) is located on our 70-acre farm, Los Arboleros Farm, that features an ecological education center, bamboo treatment and training facility, and agroforestry cultivation operations in the rural region of Chone. Students will receive official certification from Architect Robinson Vega after being instructed in bamboo construction and building a bamboo structure within the communities of Bahía de Caráquez and Chone as well as have the opportunity to engage in activities on the farm that center around organic agroecological and agroforestry farming techniques such as compost and biochar making, harvesting and rotating tropical crops, cultivating bamboo plantations, and reforesting native tree species. See more information on registration, payment, the people behind our movement, photo gallery of our constructions, and more here on
our website
! Also make sure to check out and follow us on Instagram:
@regenerationfieldinstitute
@losarbolerosfarm
.